Hollyoaks revealed the surprising identity of Cindy Cunningham's 'mystery man' in Thursday night's first look episode on E4 (June 26).
In a twist to the tale, ANDY MOSS has reprised his role as the late Rhys Ashworth, who is being seen by Cindy as a figment of her imagination in her new bipolar storyline.
'Rhys' will be back on screen for a number of episodes over the next few weeks as Cindy continues to struggle in emotional scenes.
ANDY MOSS chats to Digital Spy about life after Hollyoaks and his big return!
http://www.digitalspy.co.uk/soaps/s13/hollyoaks/interviews/a580673/hollyoaks-star-talks-shock-return-cindy-story-gets-darker.html#~oInN0xpQLrw3kn#ixzz35pwm5KL3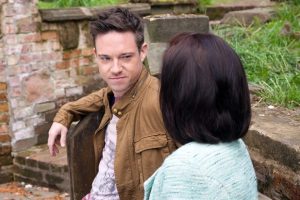 – Simon & How Talent Agency, London, UK..