Of all the gin joints in all the towns in all the world you're best off walking into this one. Future Cinema are busy transforming the Troxy in east London for their new production of one of the all-time romantic movie greats, 'Casablanca' and MATT RAY BROWN is among the cast bring the classic to life.
Future Cinema habitually treat us to extravagant and epic recreations, and this time we have Rick's Café and Moro in charge of food. London-based French musician Benoit Viellefon and his Orchestra will be performing, plus plenty of amazing theatrics before the screening.
For more information or tickets, please visit http://www.futurecinema.co.uk/tickets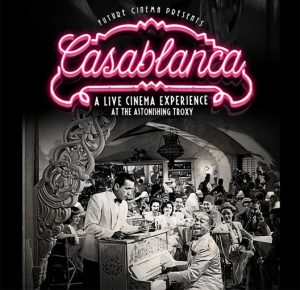 – Simon & How Talent Agency, London, UK..