DUNCAN CASEY plays Parsons in Marple's latest case, Greenshaw's Folly.
Miss Marple aids a young mother and son by spiriting them away to the estate of an eccentric botanist, not knowing that it will soon become the scene of murder.
The episode stars Julia McKenzie as Agatha Christie's super-sleuth Miss Marple and guest stars Kimberley Nixon, Julia Sawalha. Matt Willis and Fiona Shaw.
Look out for it on ITV later this year!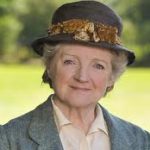 – Simon & How Talent Agency, London, UK..