Simon & How are incredibly proud to have launched the career of Jassa Aluwalia and part of that journey was securing him his biggest audition yet for History Channel's The Bible, which premiered on 3rd March 2013 with 14.8 million viewers.
The Bible comes to life in this epic new series and, from Genesis to Revelation, these unforgettable stories unfold through live action and cutting-edge computer-generated imagery, offering new insight into famous scenes and iconic characters. Created by producer Mark Burnett and featuring an international cast that includes Jassa as young David, this 10-hour docudrama explores the Bible's most significant episodes.
You can catch him slaying Goliath in the next episode, Homeland, but if you can't wait, here's a sneak preview http://www.history.com/shows/the-bible/videos/the-bible-sneak-peek-homeland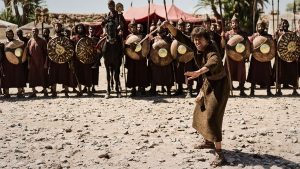 – Simon & How Talent Agency, London, UK..