Continuing a brilliantly successful year, TAMARYN PAYNE joins Aria Entertainment's company for Blood Wedding at The Courtyard Theatre.
Inspired by the tragic events of a true story, Blood Wedding is a haunting tale of love, deceit, fate and vengeance.
A mother; still grieving for the loss of her husband who was stabbed and killed during a feud with the rival Felix family, finds her son is due to marry an ex-lover of a Felix.
But he is happy to let the past rest, for love… for now.
Set in 1930s Spain, the old feud is stirred up by rumours and whispering surrounding the marriage linking families to their turbulent warring history. The younger generation has put love above all and sets the past in the past, with plans for the future to unite and harmonise.
But when tradition and expectations are so at odds with instinct, our young bride is torn between her desire and her duty. Her subsequent actions create a ferocious chain of events which will end in an irrevocably cruel climax.
For more information and tickets, please visit http://www.thecourtyard.org.uk/whatson/343/blood-wedding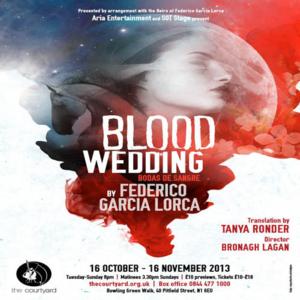 – Simon & How Talent Agency, London, UK..