In what has been a whirlwind few days for Matt Ray Brown, he has flown to The American Repertory Theatre, Boston, where he takes to the stage tonight to play the role of O'Brien in Headlong's international tour of the hit adaptation of George Orwell's 1984.
April, 1984. 13:00. Comrade 6079, Winston Smith, thinks a thought, starts a diary, and falls in love. But Big Brother is always watching.
Orwell's ideas have become our ideas; his fiction is often said to be our reality. The "definitive book of the 20th century" (The Guardian) is re-examined in this radical and much lauded staging exploring surveillance, identity and why Orwell's vision of the future is as relevant now as ever.
The international 5-star smash hit production of Orwell's dystopian masterpiece 1984 returns to London this summer. Now seen by a quarter of a million people, theatre's most powerful event has now embarked on an international tour. Don't miss out.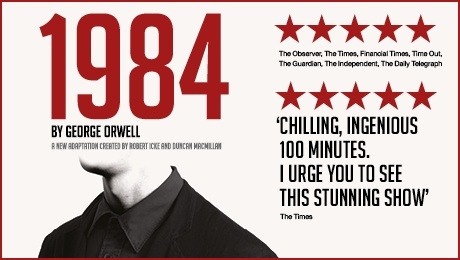 Matt is repped by sam@simonhow.com and tom@simonhow.com– Simon & How Talent Agency, London, UK..