Join our agents Freya and Marcus next month at the Surviving Actors trade show.
Freya will be holding 1-2-1 sessions on the casting process and Marcus will be joining a panel to discuss Showreels. This is the opportunity for everyone to ask the burning questions as well as an excellent opportunity to network.
Set up by actors for actors to help and encourage them in all areas. The event has free admission all day and also 'Out of Joint' Theatre Company are going to be casting for their upcoming Summer UK tour which culminates with a run in London.
You can find more information about the event and on Surviving Actors here.
The event will be at the Radisson Blu Portman Hotel on Saturday, 4th of February from 10:00-17:00.
Join Marcus for Showreel Surgery at 13:00 and you can meet with Freya from 14:00!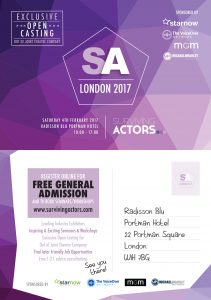 – Simon & How Talent Agency, London, UK..