CLAIRE BOND is thrilled to be heading on tour with ETT & Shakespeare's Globe with the acclaimed production of Anne Boleyn.
Compelling, witty and often laugh-out-loud funny, this celebration of a great English heroine, Anne Boleyn leaps cunningly between generations to the life and legacy of Henry VIII's notorious second wife.
Anne Boleyn is traditionally seen either as a pawn manipulated into the King's bed, or as a sexually licentious predator, even a witch. But Howard Brenton puts a very different Anne – and her ghost – on the stage. Witty and confident in her sexuality, she takes on the vicious world of Tudor Court politics. She is in love with Henry but also in love with the most dangerous ideas of her day. Conspiring with the exiled William Tyndale, Anne plots to make England Protestant for ever.
Claire plays Lady Jane. For more tour info, please visit – http://www.ett.org.uk/productions/70/anne-boleyn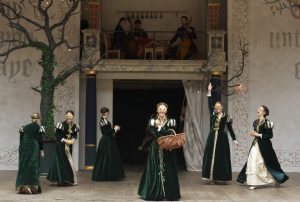 – Simon & How Talent Agency, London, UK..